1. Enjoy the outdoors in Parque del Buen Retiro Madrid's Parque del Buen Retiro, or just Retiro Park as it is known locally, is the city's best loved park, as well as being one of Madrid's top attractions. Retiro Park is the perfect place to enjoy the great summer days that Madrid gets plenty of. 2. Free entry into world class museums Check out Madrid's world-famous art museums without spending a dime. The Museo del Prado, whose renowned collection contains some of the most important works by Velazquez, Goya, and Picasso, is free from 6 – 8 pm from Tuesday to Saturday, and from 5 – 8 pm on Sundays. If you have a taste for modern art, don't miss the excellent collection at the Museo Reina Sofia, which is free from 7 – 9 pm on Mondays, Wednesdays, Thursdays, and Fridays, 2:30 – 9:00 pm on Saturdays, and 10:00 am – 2:30 pm on Sundays. 3. Sit back in Plaza Mayor Madrid is packed full of beautiful squares or plazas as they are known locally, with the main city square being Plaza Mayor. This Madrid square is steeped in history and has seen public executions, royal ceremonies, bullfights, Inquisition trials and many celebrations. Today it is surrounded by three-storey buildings, many cafes and restaurants with terraces to sit out in and take in this busy square.
4.Walk. around Madrid's Royal Palace The Palacio Real is Madrid's Royal Palace and is also the largest palace in Europe with over 2,800 rooms. It is the official residence of the Royal family; however it is only used for state ceremonies these days. The palace is open to the public but even just a walk around its grounds and courtyard is a great free thing to do in Madrid.
5. Get tropical at the Atocha Railway Station It may be hard to believe, but one of Madrid's most talked about attractions can be found in the city's main train station. A tropical garden lies in the old atrium of Atocha Railway Station and you can take a walk through this small botanic area while waiting to catch your train. This train station garden is home to tropical plants and fauna, as well as a little turtle pool that draws many onlookers.
6.Go to see the Templo de Debod This Egyptian temple once stood in the village of Debod but today resides in Madrid in the Parque del Oeste. This piece of Egyptian heritage came to Spain when a dam was being developed in Egypt and many historic pieces were at risk of being ruined. Spanish engineers helped the Egyptian government to move these monuments and in return, Egypt donated the Templo de Debod to Spain as a thank you. It's a popular attraction today and lies in one of Madrid's popular parks. Just behind it you will be greeted with some stunning views.
7. Take a stroll down Gran Via If you take a stroll along Madrid's Gran Via you will be taking a walk down the city's most famous street. Gran Via has been referenced in everything from operas to films, and it is also steeped in history. This street is one of Madrid's busiest as it is lined with shops and restaurants. It is also architecturally beautiful to look at with many buildings on Gran Via classed as landmarks.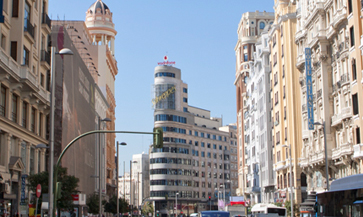 8. Madrid's largest open air flea market 'El Rastro' If you are spending a Sunday in Madrid make sure you pay a visit to 'El Rastro' – Madrid's largest open air market. This popular flea market is packed full of locals and tourists every week and you can pick up all kinds of bargains from antiques to clothes amongst the 3500 stalls. A visit to 'El Rastro' is highly recommended even if you don't want to buy anything as the atmosphere here is worth the trip alone. 9.Spend an evening in Puerta del Sol This popular city square was once the home of Madrid's city gates. This is also Madrid's most central location and where you will find a stone slab marking 'Kilometre Zero' – the official starting point for Spain's 6 National Roads. There are many noteworthy aspects to Puerta del Sol such as the monument of "El Oso y El Madroño" – the Bear and the Strawberry Tree, a statue of King Carlos III and two fountains where people gather to sit around, especially in the evenings. Puerta del Sol comes alive at dusk with people going through the square as well as stopping off in one of the cafes or restaurants in the area. It's a great place to watch the city go by.
10.Madrid's Museo Taurino (Bullfighting Museum) If you cannot afford the price of a ticket to see the bullfighting for real, then take advantage of the free admission to Madrid's Museo Taurino – The Bullfighting Museum. The museum offers an account of Spain's bullfighting history with costumes of previous matadors and even a painting by Goya depicting a bull fighting scene. There are also many photographs and relics detailing this controversial tradition from its origins to the present day. Location: Plaza de Toros Monumental de las Ventas
---